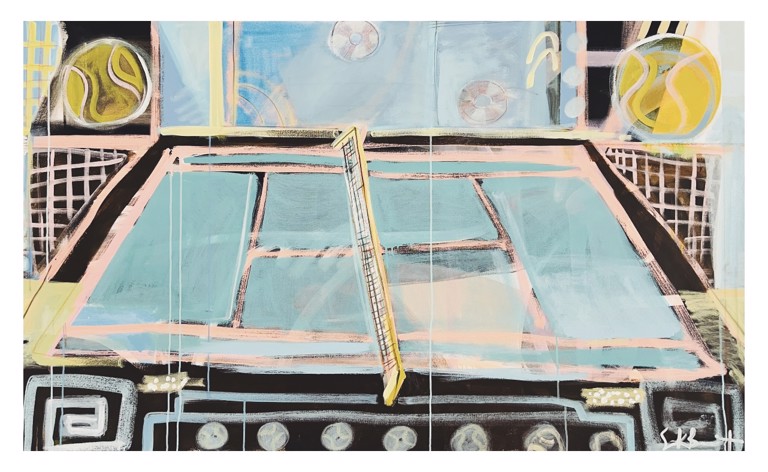 August 18 – September 30, 2022
Opening Reception: Saturday, August 20 from 5 to 7 PM
Works by Sally King Benedict and her father-in-law George Read will be on view in the next exhibition scheduled at the Quogue Gallery at 44 Quogue Street. The exhibition will run from August 18 through September 30, 2022.
Sally King Benedict is a contemporary artist living and working in Ketchum, Idaho. High praise from critics and collectors has led to her work being featured in major publications across the U.S., including Elle Decor, Architectural Digest, Domino, Garden & Gun, and Southern Living, among others. Her East End debut at the Quogue Gallery in 2017 was met with much acclaim and the gallery is honored to be showing her work once again. With a loaded brush of pulsing color, Benedict lays the foundation of abstraction readying the canvas for the artist's gestural sweeping arcs bestowing one of her signature faces of smiling expressionism to finish the painting. The artist's studio practice is based on her feel for visual texture, her rich and adventurous color palette and a level of draftsmanship that takes full advantage of her expressive linear technique as evidenced in her tennis court paintings. Saturated in color the Sally Benedict King exhibition is where faces make heartfelt appearances and a tennis enthusiasts fantasy can be found on her court. King grew up in Atlanta, frequently traveling and attending art openings, exhibits, and design shows, seeking inspiration from the work of both past and contemporary artists. She earned her BA in studio art at the College of Charleston in 2007.
George Read has recently found his way back to the studio after a long and varied career in and around the artists, critics and collectors who populate the landscape of contemporary fine art. He works quickly and on as many as a dozen pieces at once, a practice he picked up from his former mentor, Eduardo Chillida. Chillida suggested that he begin several pieces at once, putting each one aside when it had just begun to find form and definition. Then, with a roomful of works in varying stages of progress, Chillida encouraged him to move freely among them, from image to image, without a set pattern or plan. The practice suited him; he found it helped keep his eyes fresh and, most important, it forestalled over-analysis. "Picasso and Miró were the first, master storytellers," the artist says. "Rothko and Tápies created compelling images, and color field painters and others, like Diebenkorn, created complex visual experiences. I find myself pursuing something between the last two. I hope to create evocative images accompanied by experiences of color and form."
About Quogue Gallery
Quogue Gallery's mission is to present a program of artistic excellence by showcasing the work of prominent, mid-career and emerging artists in the modernist tradition. Its core focus is on discovering and exhibiting figurative and abstract expressionist painters who are recognized historically as well as those of great promise who have fallen through cracks of history.
Since its founding in 2014, the Gallery's growing presence in the modern and contemporary art world has been acknowledged by the press. The gallery has been featured in many publications, including the New York Times, Dan's Paper, Beach Magazine, Hamptons Art Hub, Artnet News, Southampton Press, and others. The gallery also has been recognized for the quality of its exhibitions by Hamptons Art Hub, Artnet News, and other outlets.
Quogue Gallery is at 44 Quogue Street, Quogue, NY 11959. quoguegallery.com