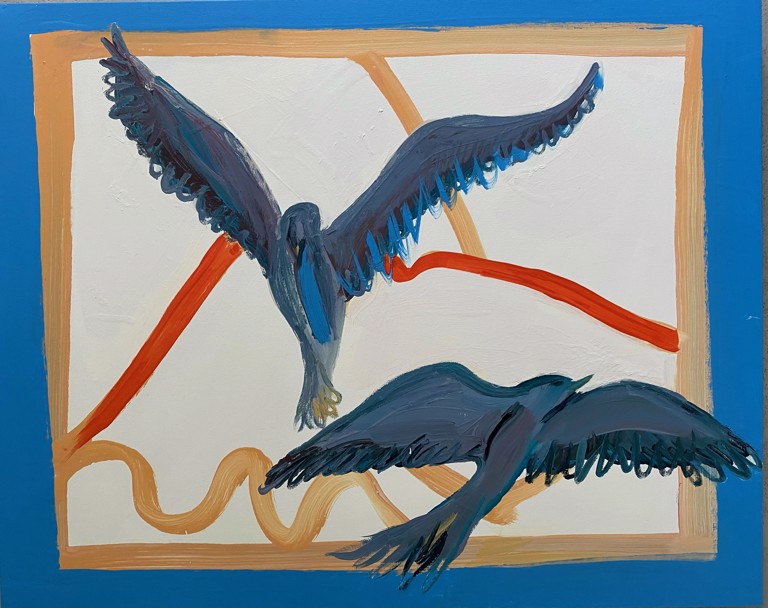 October 1 – November 11, 2022
Artist Reception: Saturday, October 1 from 5 to 7 PM
In this solo exhibition, Quogue Gallery presents various Series by Mexican artist Claudia Doring Baez. From abstract expressionist mix media drawings to dramatic oil portraits, Doring Baez explores the many roles women play, as well as her own relationship to her environment and her role as an artist.
The abstract expressionist drawings on paper were produced in the studio of Hans Hoffman, an early founder of the New York Studio School, where Doring Baez got her master's degree in 2012. The Studio School emphasizes working from life, drawing and a sustained studio practice. "These abstract works were depictions of the present moment says the Doring Baez. She adds, "I was transported by frantic energy in that specific space."
In the Melania Series, Doring Baez captures the vulnerability of privilege and interprets the ill-fated choices Melania made during her time as first lady into stoic, emotional portraits.
The white and black drawings entitled, "Tub"  are "act before you think" expressive interactions between a model and a tub that convey the intimacy and, for Doring Baez, the importance of that sacred space.
The large canvas, from a Series based on Cindy Sherman's Untitled Film Stills, depicts #14 in the Sherman series. This painting is about a woman's power or lack thereof, a central theme of Doring Baez's career. A woman is holding a knife in her living room, looking out at: Her husband? Her son? Her daughter? Her mother? Her father? Her landlord? An intruder?
Finally, in the "Quogue, Quogue" Series, Doring Baez dedicates these expressive paintings of native birds and beach life to Quogue where she has had a home for the past twenty-six years.
About Quogue Gallery
Quogue Gallery's mission is to present a program of artistic excellence by showcasing the work of prominent, mid-career and emerging artists in the modernist tradition. Its core focus is on discovering and exhibiting figurative and abstract expressionist painters who are recognized historically as well as those of great promise who have fallen through cracks of history.
Since its founding in 2014, the Gallery's growing presence in the modern and contemporary art world has been acknowledged by the press. The gallery has been featured in many publications, including the New York Times, Dan's Paper, Beach Magazine, Hamptons Art Hub, Artnet News, Southampton Press, and others. The gallery also has been recognized for the quality of its exhibitions by Hamptons Art Hub, Artnet News, and other outlets.
Quogue Gallery is at 44 Quogue Street, Quogue, NY 11959. quoguegallery.com