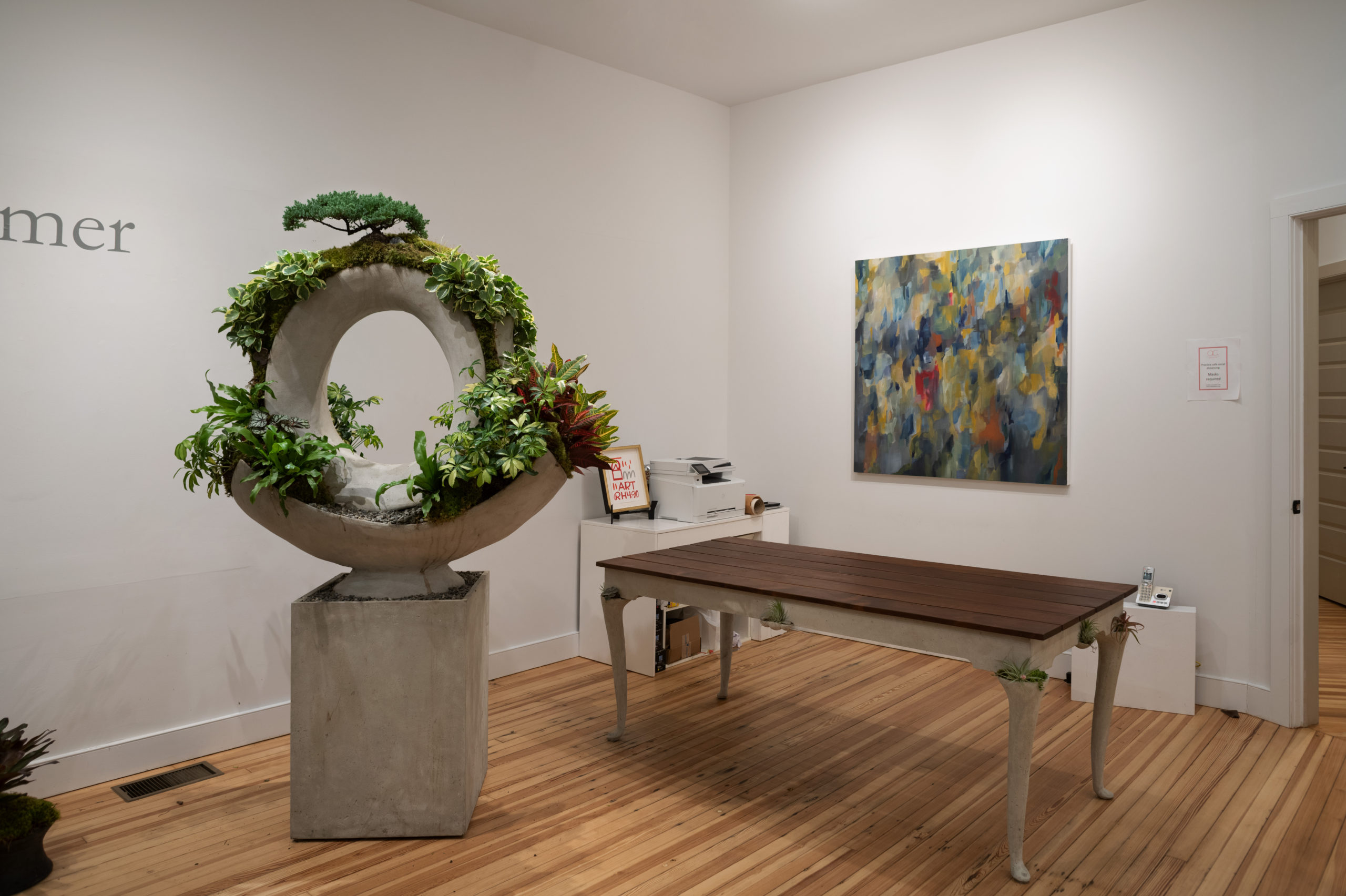 Brendan J. O'Reilly | Southampton Press
"Biophilia" is a hypothesis, popularized by naturalist E.O. Wilson, that humans have an innate affinity for nature and a tendency to interact with other forms of life.
To artist and designer Robert Remer, the term speaks to his studio's practice: merging manmade materials with plants to create furniture, sculpture and wall art.
Mr. Remer said Monday that examining the relationship between man and nature as a grand narrative has always been an interest of his, and his work grew out of that. Not only is he mixing what humans have made with what nature has made, he is putting humans in closer proximity to nature, even indoors.
He's worked this way for about 25 years, since the concept of biophilia was in its infancy, and has seen it gain momentum, he said.
He attributes the growing trend to the pervasiveness of technology: As there is more and more screen time in daily life, people desire reality-based and living things instead of a digital reality.
Among the reasons why works of biophilic design are different from typical sculpture or designer furniture is that they are always evolving. The plants grow, mature and sometimes die, and they can be trimmed or replaced as the caretaker of the work decides.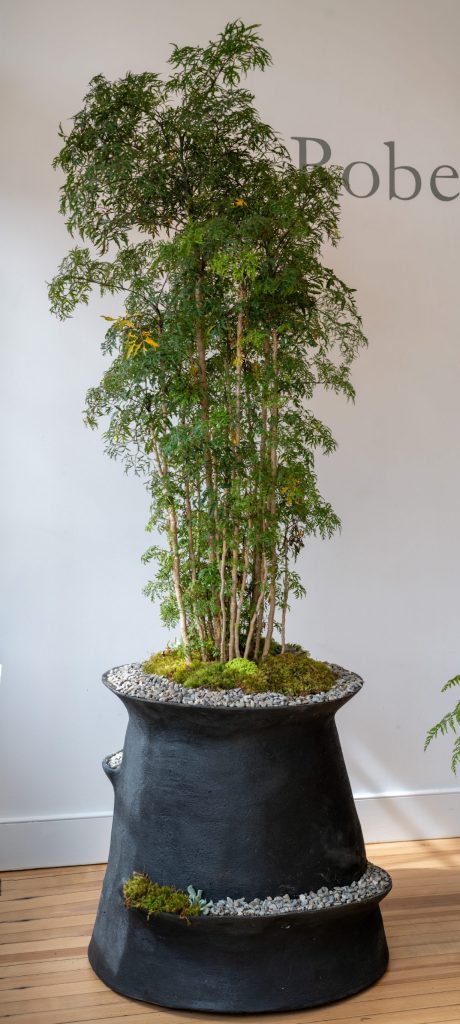 "The owner or curator is as much a part of the piece as the artist," Mr. Remer said. "It's an ongoing relationship that you have with the piece."
Taking care of a biophilic work, on a practical level, is a bit like taking care of a houseplant, he said. However, for large pieces, such as his 10-foot-by-15-foot wallscape currently on display at Quogue Gallery in the village of the same name, a hidden reservoir and pump system makes keeping the plants watered much easier.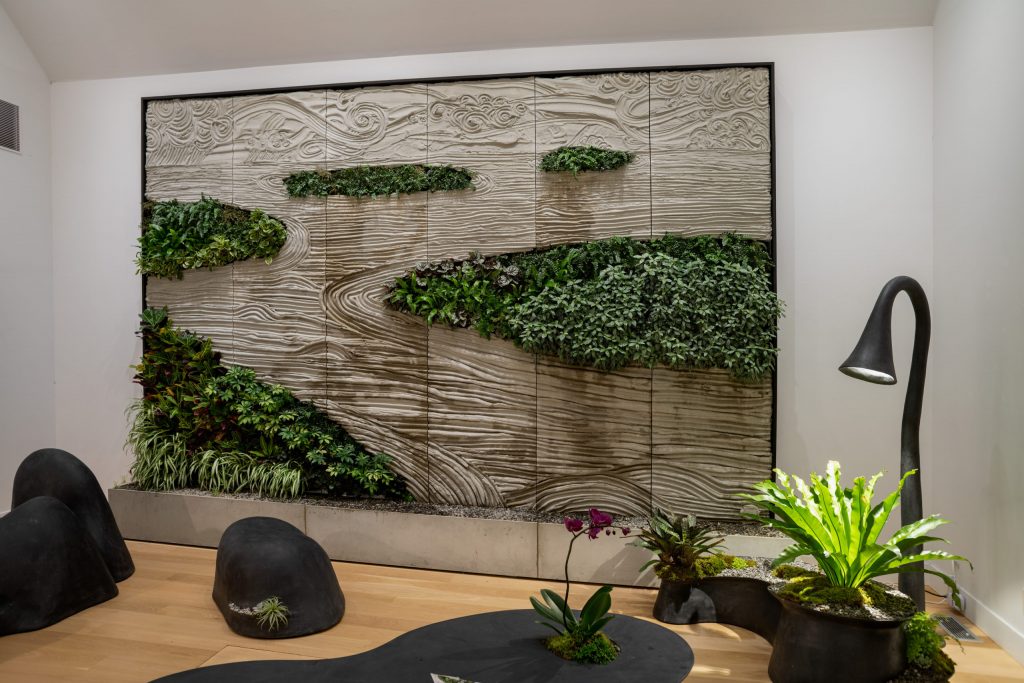 Mr. Remer and his Brooklyn-based biophilic design studio, Opiary, caught the attention of Quogue Gallery owners Christy and Chester Murray, who invited him to display the breadth of his oeuvre in a two-part show.
The first part, on display now, is a retrospective that shows off the range of designs in Opiary's catalog, including seats, tables, freestanding sculptures, a koi pond with floating bowls, and the wallscape, all of which have living elements. Then, in May, the exhibition will change over to his one-off designs, both new and old, that are more personal and sculptural.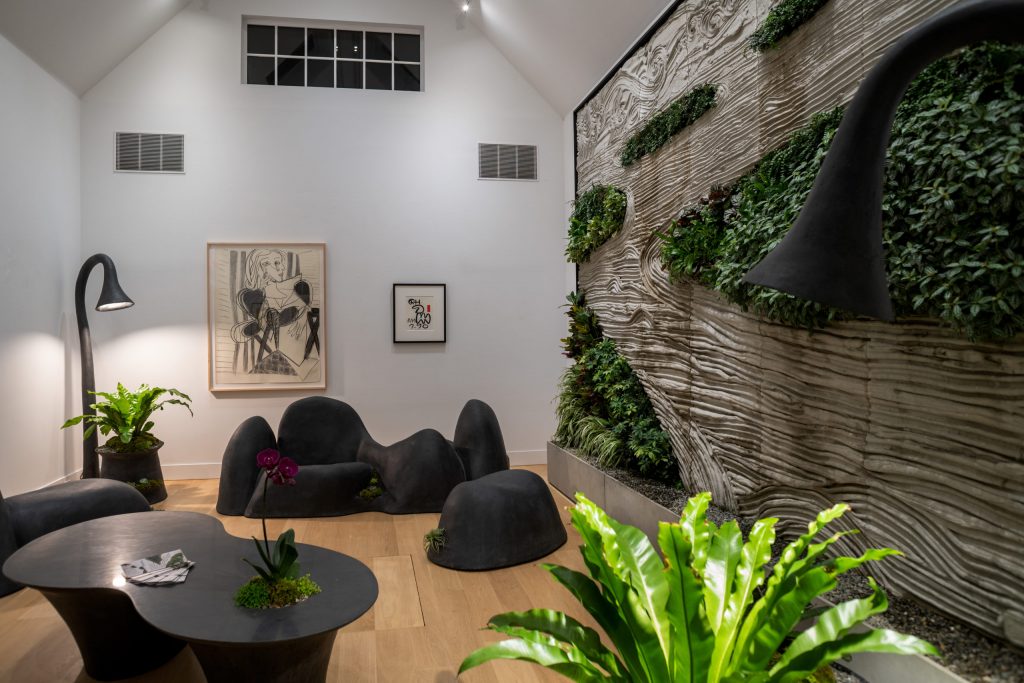 Mr. Remer had studied landscape architecture and sculpture at Yale and said he rolled both fields together into one practice. When he started on that path, he was unfamiliar with the term "biophilia," but when he discovered it, he thought it nicely summed up what his studio does and was just the term he was after.
He gravitated toward biophilic design because combining natural systems and manmade systems was aesthetically powerful and struck him on a very personal level — and he was surprised and happy to learn that it was personally relevant to many other people as well, he said. He has also found that more and more people, like him, are interested in breaking down the boundary between inside and outside.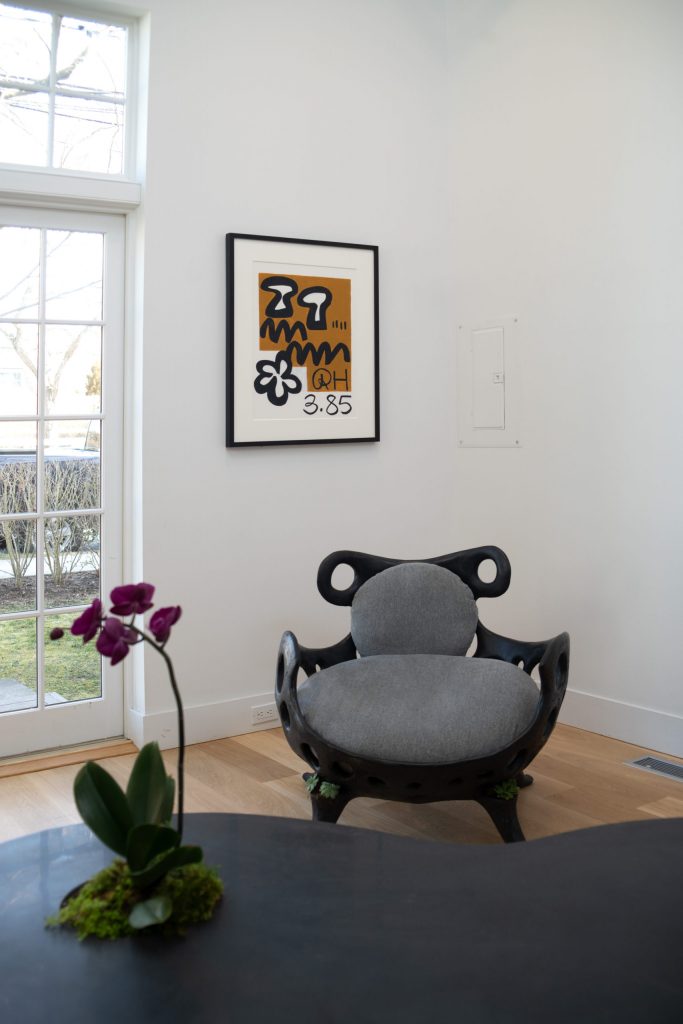 Some of his furniture designs feature their living elements more prominently than others. For example, "Island Coffee Table," hand-sculpted in concrete and polished to a smooth finish, includes a dish for a plant to rise out of the table, while a large concrete Queen Anne-style table with an ipe top has small pockets for tiny air plants where a traditional Queen Anne table would have ornamental carvings.
"Part of what I like to do is take strong design from whatever era and update it to this moment and in our relationship with nature," Mr. Remer said. "So that table, the Queen Anne style, would have little elements of nature maybe carved into the design at those points. I like to not represent the nature but present it."
A collection of seats named "Soy Una Roca," which translates to "I Am a Rock," looks like boulders with plants growing from the crevices, though hidden casters make the seats easy to move around. "Drillium Chair" and "Drillium Chaise" are concrete with large holes patterned throughout them — evocative of the cyclist's practice of drilling holes through bicycle components to make them lighter — and plants are included where the legs meet the seat.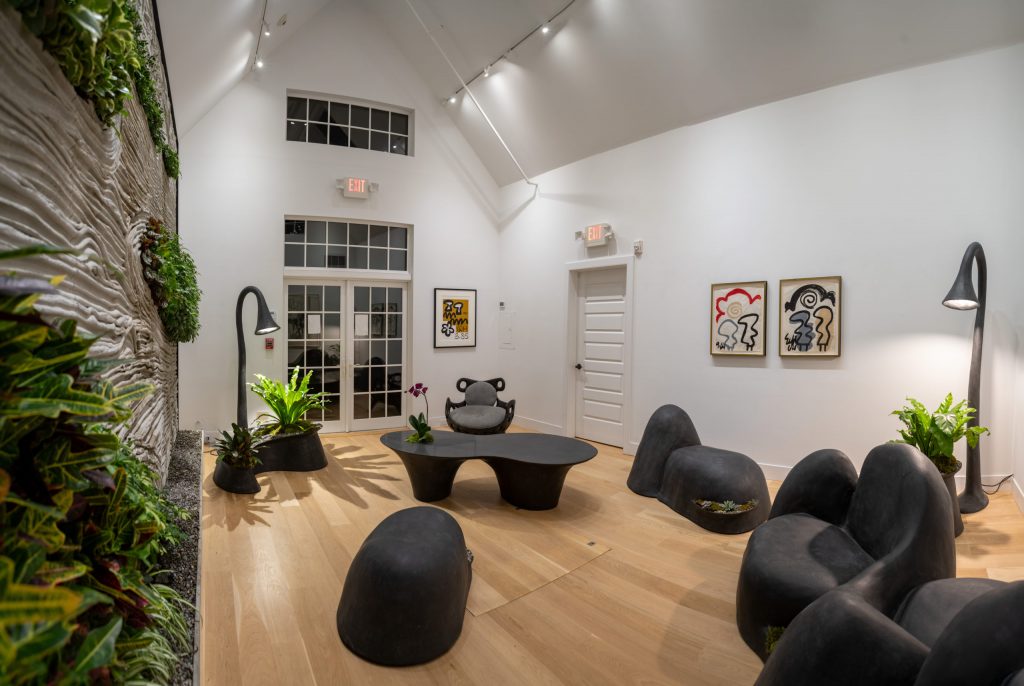 Aside from the furniture are the works that are purely decorative. Some fit the bill of a container garden and are described as "planters" in the Opiary catalog. Then there are works that clearly fall into the camp of sculpture, such as the tall, whimsical pedestals titled "Hoodoo Stacks," and the large ring with a circle of plants around it, including a bonsai tree on top and a hidden watering system.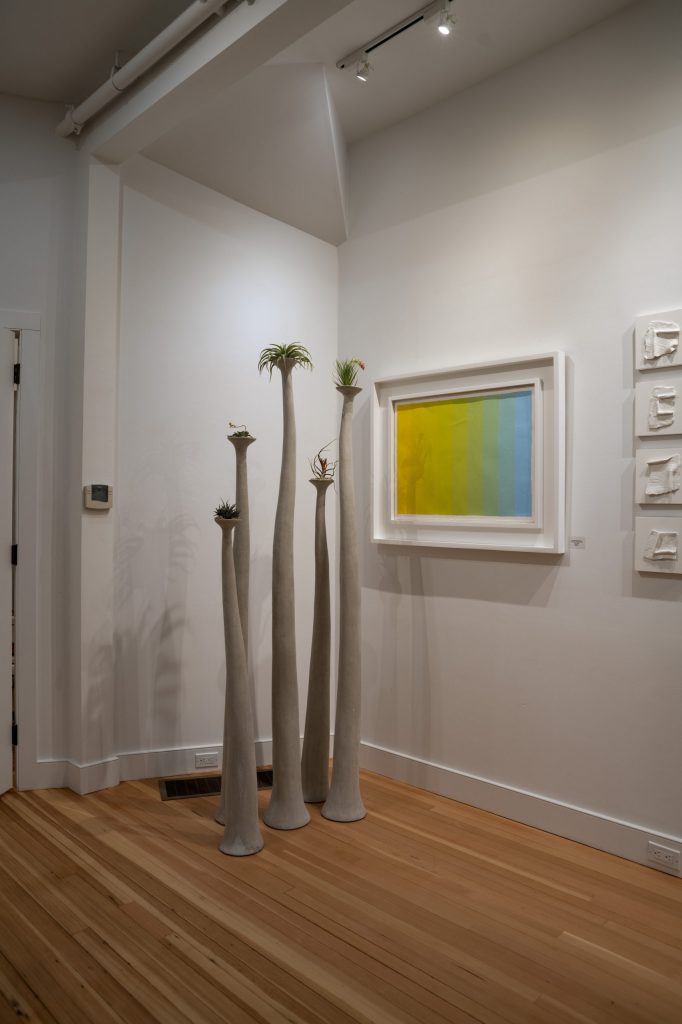 Mr. Remer's designs are customized to their environment, taking into account the climate, the amount of light and how much interest there is in maintenance. "So a piece that's for an indoor space is going to be planted differently than a piece that goes outside," he said.
Knowing which plants work best for different applications and how to deliver water discreetly and efficiently took years of experimentation.
"The design process is iterative and very organic," he said. It starts with an initial spark of discovery — "Wow, that's great! I really like that!" — and then fleshing out the idea to make it workable, he explained.
When he got started he would go out into the woods and harvest plants to put in his work, he said. These days, he uses both local and exotic plants from nurseries and finds inspiration as new plants come on the market.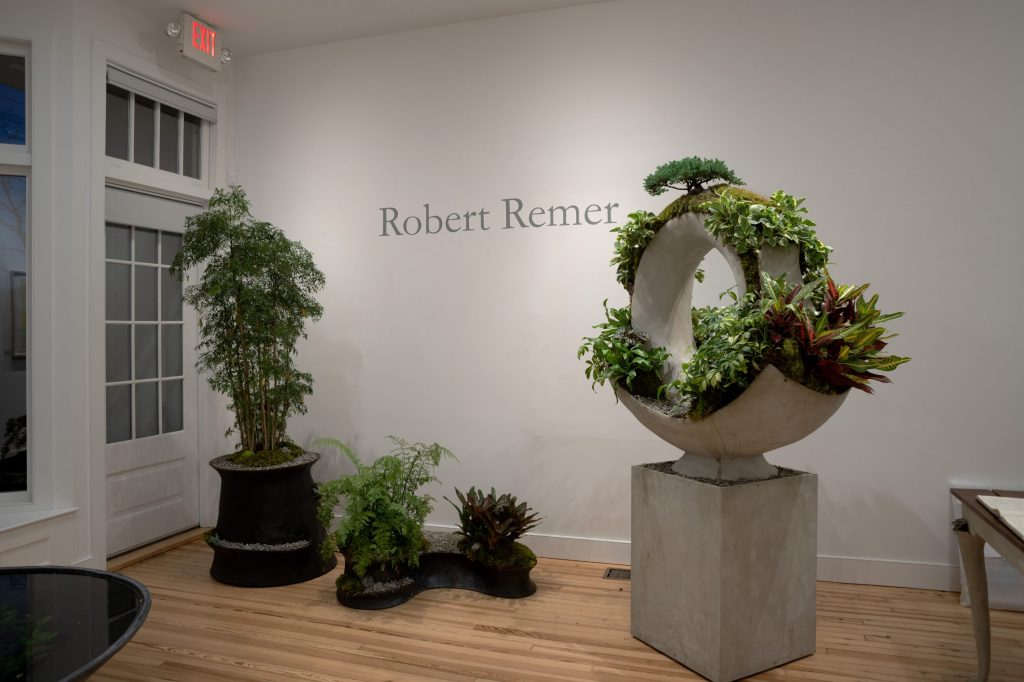 Though the wallscape at Quogue Gallery is quite massive, it is hardly the largest wallscape that Mr. Remer and his team of artisans at Opiary have made: Opiary has done installations that wrap the outside of buildings.
The artistry of the design sets Opiary's wallscapes apart from a simple vertical garden completely covering a wall, according to Mr. Remer. He said the wallscapes are approached more like paintings.
"We're also thinking about meaning," he continued. "It's not just a wall treatment. It's not like painting your wall green or hanging up a poster of a waterfall."
The clustered plants in the Quogue wallscape form islands, while cement represents the water between them and the sky above. The lines in the cement that give a sense of flow, wave action and wind were drawn with Mr. Remer's fingertips, which is intended as a metaphor: "They look like fingerprints, and I like to think about the fingerprints of God on the earth," he said.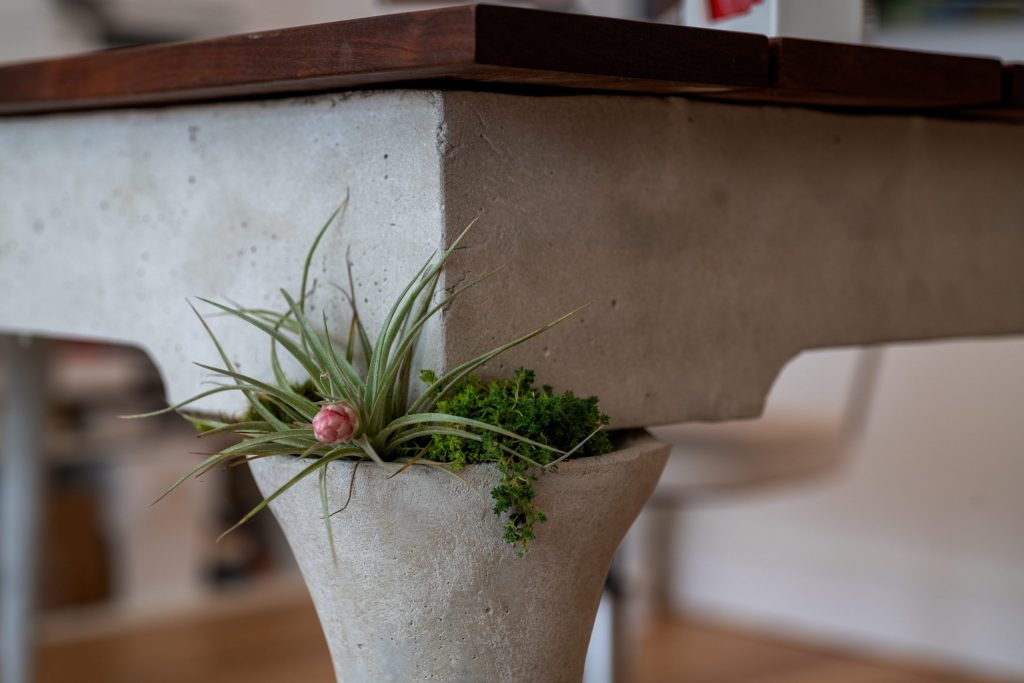 "Robert Remer: Biophilia" is on display at Quogue Gallery, 44 Quogue Street, Quogue, through May 31 on Saturdays and Sundays from 10 a.m. to 5 p.m. and by appointment by calling 203-321-9427. To view the exhibition virtually, visit quoguegallery.com.