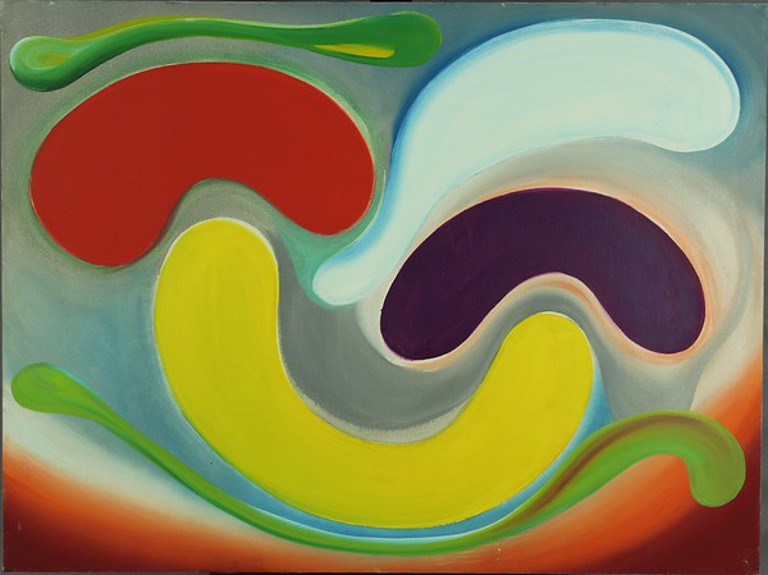 FOR IMMEDIATE RELEASE
Reception, Saturday, June 12, 5 – 7 PM
The Quogue Gallery has the honor of featuring works by Norman Carton, one of the most fascinating figures of the Abstract Expressionist movement. Last year, the gallery focused on works on paper painted in the 1950s and 60s. About the exhibition, Charles Riley, Director of the Nassau County Museum of Art wrote, "Norman Carton, with his academic training, his love of studio process and materials (he ground his own vivid pigments) and his mastery of art history, stuck to art as part of life. As these wonderfully painterly, quite often large and substantive works in gouache triumphantly show, there was plenty of room left to operate in the Abstract Expressionist style, especially when it came to color."
Building on this important historical association, this year the gallery is pleased to mount an exhibition featuring 15 oil paintings on canvas from Carton's epochal Lunar and Organic Abstract Expressionist Series of the 1970s. In his comments on the genesis of these paintings, the artist emphasized that they were "inspired by late 1960s and 1970s advances that see our natural world in new ways." As Riley comments with regard to these works in oil, "What you see in these chromatically rich paintings is an expansion of Carton's gesture, an opening of space in sweeping curves that certainly conjure the Einsteinian vision of curved space-time, which Carton understood so well."
ABOUT THE ARTIST
Norman Carton (1908 – 1980) was an Abstract Expressionist painter who was critically regarded as possessing a painting style of superlative action and a unique talent as a colorist. He exhibited at the highly influential and avant-garde Martha Jackson Gallery, New York City, and founded one of the first artists' cooperative galleries in lower Manhattan, a group of likeminded artists who laid emphasis on color, texture, and the materiality of paint. Carton was a "painter's painter" who, while devoting his life to education and lecturing in the arts, produced a large body of work. During a long artistic career, he showed more than 135 group exhibitions and more than 20 one-man shows. Awarded numerous awards, prizes, and fellowships, he also founded a fabric design firm and production company that was featured in such magazines as Interior, Harper's Bazaar, Women Wear Daily, and Vogue. His work is represented in over 200 public collections throughout the world, including The Whitney Museum of Art; the Albright-Knox Gallery; the Norfolk Museum of Art; the Chrysler Art Museum, the Jewish Museum in Paris; the Museum of Modern Art in Paris and the Museum of Art in St. Denis, France.
ABOUT QUOGUE GALLERY
Quogue Gallery's mission is to present a program of artistic excellence by showcasing the work of prominent, mid-career and emerging artists in the modernist tradition. Its core focus is on discovering and exhibiting figurative and abstract expressionist painters who are recognized historically as well as those of great promise who have fallen through cracks of history.
Since its founding in 2014, the Gallery's growing presence in the modern and contemporary art world has been acknowledged by the press. The gallery has been featured in many publications, including the New York Times, Dan's Paper, Beach Magazine, Hamptons Art Hub, Artnet News, Southampton Press, and others. The gallery also has been recognized for the quality of its exhibitions by Hamptons Art Hub, Artnet News and other outlets.
Quogue Gallery is at 44 Quogue Street, Quogue, NY 11959. quoguegallery.com