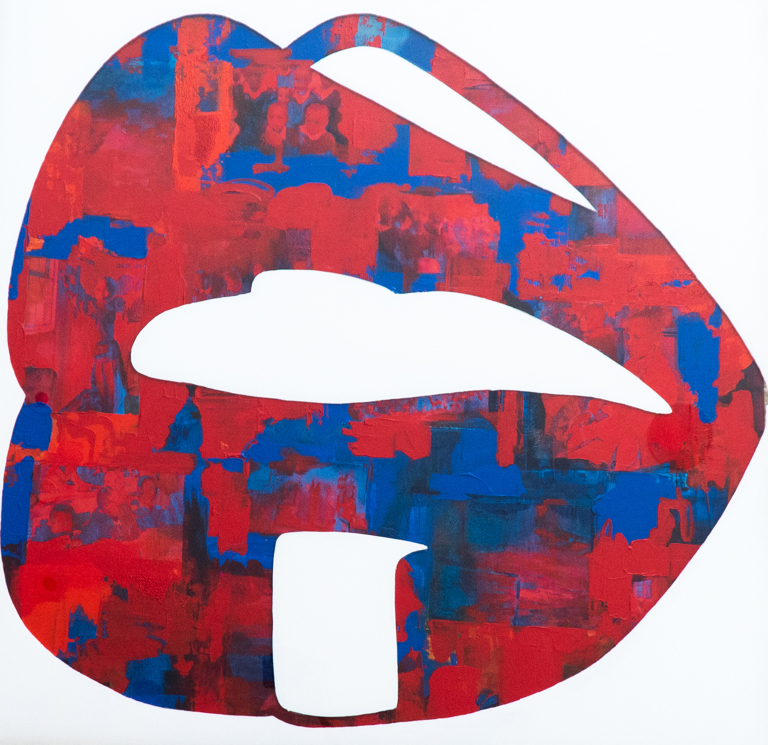 FOR IMMEDIATE RELEASE
Clementine: Selfless in a Selfie World
August 5 to August 25 , 2021
Artist Reception, Saturday, August 7, 5 – 7 PM
Quogue gallery is pleased to present "Clementine: Selfless in a Selfie World". The exhibition will feature 15 works newly created by the artist.
The artist says about her "art filter" body of work, "I am intrigued by how I can reflect our social media era in a fine art form. This Series is comprised of interchangeable art filters that overlay paintings, instantly transforming them, just as with digital filters in platforms such as Instagram. Filter paintings represent social media symbols, such as the conspicuous selfie pucker."
Clementine employs her "art filter" technique in her new "Selfless" Series. In the Series, she journeys to remote villages in third world nations to give hidden stories and humanitarian challenges a voice through her art. Through photography, she captures her encounters with disabled school children, orphans facing life threatening events, or those simply in need of basic human essentials such as access to clean water. Melding photography into paintings on canvas, Clementine thereafter overlays an art filter that is representative of our social media obsessed society. The resulting message: Look beyond the self and at others in the world who truly need our attention.
"Selfless in a Selfie World" is a series to raise the consciousness of society, embracing what it means to move beyond narcissism and towards human connection.
ABOUT THE ARTIST
Clementine is an international artist with an exhibition history spanning Milan, Amsterdam, Brussels, Miami, and New York. She works across series painting primarily in acrylic on canvas and plexiglass. Her paintings range from purely abstract to figurative in style, all with an underlying freedom of expression depicted through bold color palettes and symbolic messages. Clementine received a B.A. from Boston College with additional art studies at Parsons and Harvard.
ABOUT QUOGUE GALLERY
The mission of the Quogue Gallery is to present a program of artistic excellence by showcasing the work of prominent, mid-career and emerging artists in the modernist tradition. Its core focus is on discovering and exhibiting figurative and abstract expressionist painters who are recognized historically as well as those of great promise whose work has not received the attention and critical response it so richly deserves.
Since its founding in 2014, the Quogue Gallery's place in the modern and contemporary art world has been widely acknowledged by the press. The gallery has been featured in many publications, including the New York Times, Dan's Paper, Beach Magazine, Hamptons Art Hub, Artnet News, Southampton Press, and others. The gallery has also received critical recognition in reviews published by Hamptons Art Hub, Artnet News and other outlets.
Quogue Gallery is at 44 Quogue Street, Quogue, NY 11959. quoguegallery.com