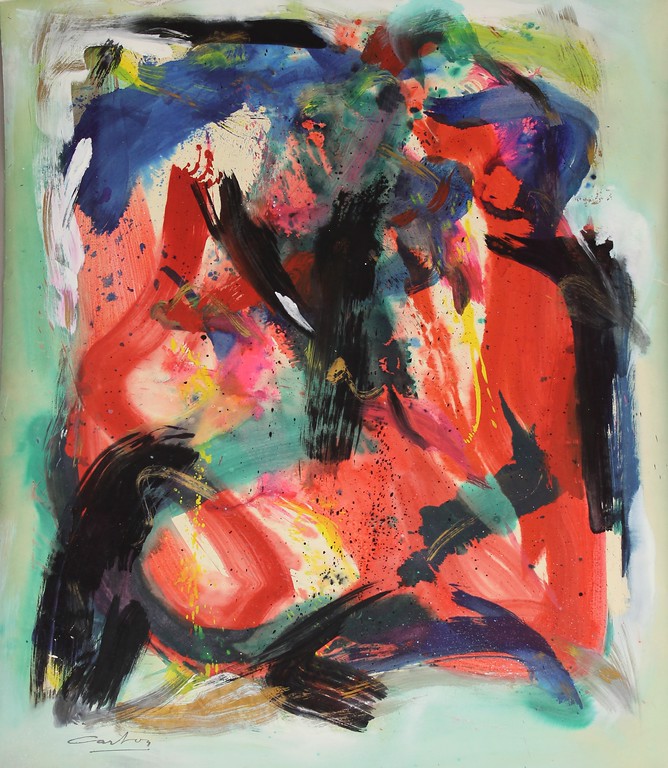 FOR IMMEDIATE RELEASE
Norman Carton: 1950s/60s Works on Paper
July 3 to July 20, 2020
It is with great pleasure that the Quogue Gallery features works on paper by Norman Carton painted in the 1950s and 60s. Fifteen paintings will be on display in the north gallery. About the exhibition, Charlie Riley, the Director of the Nassau County Museum of Art writes, "Norman Carton, with his academic training, his love of studio process and materials (he ground his own vivid pigments) and his mastery of art history, stuck to art as part of life. As these wonderfully painterly, quite often large and substantive works in gouache triumphantly show, there was plenty of room left to operate in the Abstract Expressionist style, especially when it came to color."
Norman Carton was born in the Ukraine in 1908. Escaping the turbulence of civil war massacres, he settled in Philadelphia in 1922 after years of constant flight. In the 1920s, he attended the Pennsylvania Museum School of Industrial Art and the La France Art Institute located in Chicago. While in school, he worked as an illustrator for the Philadelphia Record in the company of other illustrator/artists who had founded the Ashcan School, the beginnings of modern American art.
In the early 1930s, he studied fine art and received scholarships at the Pennsylvania Academy of Fine Arts (PAFA) where he was particularly influenced by his teacher Henry McCarter, who was a pupil of Toulouse-Lautrec, Puvis de Chavanne, and Thomas Eakins. Arthur Carles, especially with his sense of color, and the architect John Harbison also provided tutelage and inspiration. During this time, Carton worked as a scenery designer at Sparks Scenic Studios and a structural drafter at the Philadelphia Enameling Works. He also obtained employment as a creative draftsman and fine art lithographer.
A Cresson European Traveling Scholarship awarded in 1934 enabled Carton to travel through Europe and study in Paris. There he expanded his artistic horizons with influences stemming from Matisse, Picasso, Soutine, and Kandinsky. When he returned to the United States, he completed his studies at PAFA and the Barnes Foundation, where he was influenced by an intellectual climate dominated by John Dewey and Bertrand Russell. In the mid-1930s, Carton was awarded a Pennsylvania Academy Fellowship and won the Toppan Prize for figure painting as well as the Thouron Composition Prize.
Between 1939 and 1942, the Works Project Administration ( WPA) employed Carton as a muralist collaborating with architect George Howe. He secured commissions to paint major murals in the Fleisher Vocational School for Girls in Philadelphia, the Officers' Club at Camp Mead Army Base in Maryland, and in the city of Hidalgo, Mexico. During World War II, Carton was a naval structural designer and draftsman at the Cramps Shipbuilding Corporation (Camden, New Jersey). Here, he began to create  semi-abstract and non-objective sculpture with metal.
After the war, Carton co-founded a fabric design plant in Philadelphia. He created original patterns for interiors and fashion, and was commissioned by clients such as Lord & Taylor, Nina Ricci, and Gimbels. Publications such as Vogue, Harper's Bazaar, and Interiors featured his designs. In 1949, he sold his partnership interest in the plant in order to devote full-time to his painting.
Carton had his first solo exhibition in 1949 at the Philadelphia Alliance. This show was followed closely by solo exhibitions at the Laurel Gallery (New York City) and Dubin Gallery (Philadelphia). At this time, his work was semi-abstract. In addition to painting, he taught classes at the Philadelphia Museum of Art and was a founder and the chairman of the Philadelphia chapter of Artist's Equity Association.
The Philadelphia Museum of Art and the organization of the National Museums of France commissioned Carton to travel to France in 1952 for a color study of continental masterpieces. He was granted access to study the restoration of the Mona Lisa and was one of the very few to be given permission to remove the painting from its frame.
In 1952, he had solo exhibitions at the Sorbonne, Galerie d'Art, and Gallery Rene Breteau and was part of many group shows in Paris salons including Les Surindependants, Salon d'Automne, and Realities Nouvelles. Here, for the first time, Carton showed his non-objective paintings. He also exhibited at the Musee d'Art  Juif where he won the Prix d'Art in 1952.
During his stay in Paris, the Cercle Paul Valery twice sponsored Carton to present lectures at the Sorbonne. He conducted seminars at the Louvre for the Cercle Esthetique Internationale and taught classes in stage and costume design at the Theatre de Recherche. When Carton returned to the United States in 1954, he settled in New York City where he worked in the company of the leading artists of the day with whom he appeared in a number of group shows including the Whitney 1955-1956 "Exhibit of Contemporary American Painting". This exhibition included such notable artists as Richard Diebenkorn, Joan Michell, James Brooks, Grace Hartigan, Franz Kline, Georgia O'Keefe, Adolph Gottlieb, and many others.
The mid-1950s to the 1970s was a busy time for Carton during which he received a great deal of recognition. He had solo exhibitions one gallery after another (Martha Jackson, Staempfli, Granite and Worldhouse, New York City; Tirca Carlis, Provincetown; Gres, Washington D.C.; Dumbarton, Boston; and Joachim, Chicago as well as a series of group exhibitions (Whitney, Corcoran, Dallas, Baltimore, Dayton, and Chrysler Museums among others). In 1962, with the aid of two other artists, he formed the Dewey Gallery, the first gallery in New York City owned and operated by artists. He presented his work during the opening exhibition. During his lifetime, Carton was in more than 135 group exhibitions and more than 20 one-man shows and was popularly and critically regarded as possessing a painting style of superlative action and a unique knowledge as a colorist. Using his own ground pigments, Carton painted with a brilliant palette.
Carton also was an educator. The New School for Social Research in New York City enlisted him as a member of the art faculty. He also gave lectures at the Pratt Institute and the Chrysler and the Whitney Museums of Art. He moderated panel discussions between prominent artists and educators, was president of the Rainbow Arts League, and appeared on radio interviews. In 1960 and 1961, he painted at the McDowell Colony in New Hampshire as a Fellow. Later, Carton also taught at Long Island University. He was considered a painter's painter by his peers.
ABOUT QUOGUE GALLERY
Quogue Gallery's mission is to present a program of artistic excellence by showcasing the work of prominent, mid-career and emerging artists in the modernist tradition. Its core focus is on discovering and exhibiting figurative and abstract expressionist painters who are recognized historically as well as those of great promise who have fallen through cracks of history.
Since its founding in 2014, the Gallery's growing presence in the modern and contemporary art world has been acknowledged by the press. The gallery has been featured in many publications, including the New York Times, Dan's Paper, Beach Magazine, Hamptons Art Hub, Artnet News, Southampton Press, and others. The gallery also has been recognized for the quality of its exhibitions by Hamptons Art Hub, Artnet News and other outlets.
Quogue Gallery is at 44 Quogue Street, Quogue, NY 11959. quoguegallery.com