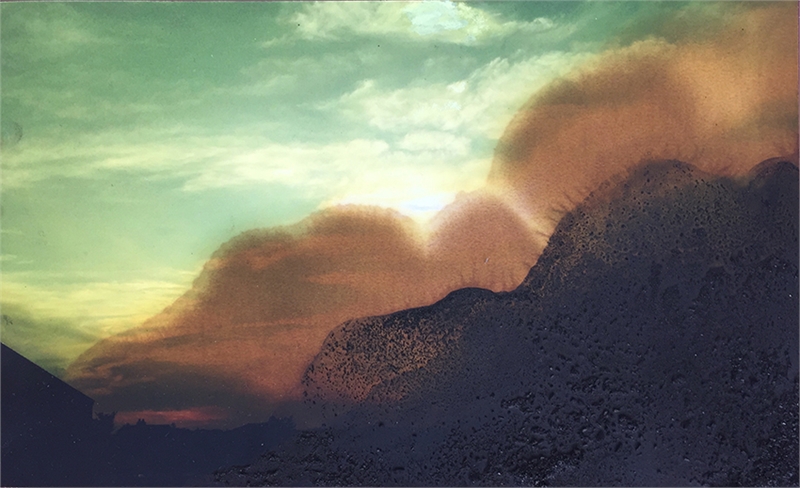 FOR IMMEDIATE RELEASE
Maggie Cardelús: SPILT SUN
August 1 to August 21, 2019
Artist Reception: Saturday, August 3, from 5 to 7 pm
Quogue Gallery's is pleased to present "SPILT SUN" featuring sixteen photo-paintings by visiting artist Maggie Cardelús. The exhibition will be on view from August 1 to August 21, 2019; an Artist Reception will be held at the gallery at 44 Quogue Street on Saturday, August 3, from 5 to 7 p.m.
Maggie Cardelús is a Paris based, American/Spanish artist and designer. For her photo-based work comprised of wall pieces, sculpture, installations, video, and performance, she relies heavily on meticulous handcraft to explore the formal, material, and psycho-socio-mnemonic forces at work within and around photographic images.  "Spilt-Sun", her most recent body of work, revisits American landscape photography using crude oil as a painting medium in order to create evocative works that suggest a new, more problematic American identity brought about by the burning and spilling of fossil fuels.
ABOUT THE ARTIST
Cardelús holds a BA from Wellesley College, a MArch from Columbia University, and a MFA from Hunter College in NY.  Her engagement with the history of photography and memory has led to a number of publications and invitations to speak publicly about her work and teach in undergraduate and graduate art programs. Cardelús is presently Lecturer at the Art, Media, and Technology department at the New School Parsons Paris and has a small consulting firm, PortfolioWorksParis, for portfolio review and preparation for university admission. She is also the recipient of numerous awards and grants with which she has explored her interest in traditional crafts in various international artist residencies. Her work is in many international public and private collections including the Montreal Museum of Contemporary Art, the Norton Collection, the Fondation Salomon Collection, the Thaddaeus Ropac Collection, the Caixa Foundation Collection, the Nanette Gherig Collection, the Mario Testino Collection, and many more.
ABOUT QUOGUE GALLERY
Quogue Gallery's mission is to present a program of artistic excellence by showcasing the work of prominent, mid-career and emerging artists in the modernist tradition. Its core focus is on discovering and exhibiting figurative and abstract expressionist painters who are recognized historically as well as those of great promise who have fallen through cracks of history.
Since its founding in 2014, the Gallery's growing presence in the modern and contemporary art world has been acknowledged by the press. The gallery has been featured in many publications, including the New York Times, Dan's Paper, Beach Magazine, Hamptons Art Hub, Artnet News, Southampton Press, and others. The gallery also has been recognized for the quality of its exhibitions by Hamptons Art Hub, Artnet News and other outlets.
Quogue Gallery is at 44 Quogue Street, Quogue, NY 11959. quoguegallery.com