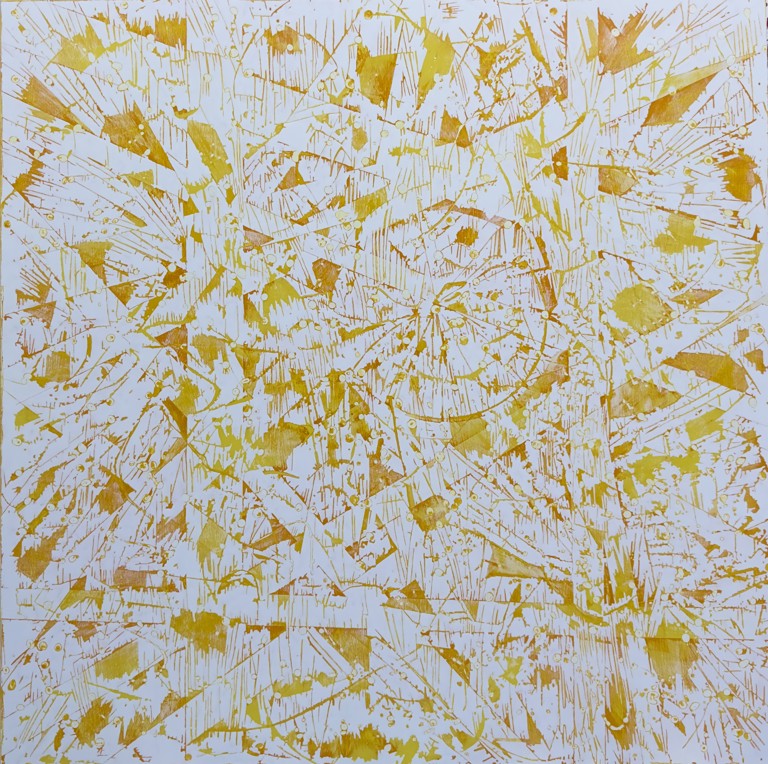 July 27 , 2023  to September 5, 2023
Artist Reception: Saturday, July 29 from 5 to 7 PM
Quogue Gallery is pleased to present "Kinga Czerska: Serendipity". This exhibition will feature seventeen paintings by the artist.
Kinga Czerska creates intricately woven paintings that capture light, movement, and energy. She sees the world composed of an intense number of connections and information that her mind processes with extraordinary nuance and detail. Hers is a world in constant motion. In her work, she flattens everything in front of her into one plane, analyzing its contents. As the world restructures by shifting and undulating, she captures the moment when it is stable, just before another shift occurs.
Czerska devotes her time to the study of patterns and structures found all around us: in architecture, engineering, flora and fauna, stars and galaxies, the human body, and her own psyche. Understanding the intricacies of the natural and manmade environments and phenomenal detail that allows for each piece to fit, creating a graceful, precise, elegant and balanced world, is her life's work.
To produce works that convey this innate, intrinsic energy, the artist employs an engineered, architectural approach. She builds  the interior structure of the painting by lying down multiple translucent layers of paint and textures on wood panels. In these initial phases, her paintings take shape in her mind, as all that is there becomes hidden as each layer covers the one beneath. Once she is satisfied with the strata of this world, she then begins to mine what she knows lies within by meticulously removing portions of layers. What is unearthed is an elegant, intricate world, pulsating with energy and light. As she keeps working the surface, she creates new spaces – a linked, unified environment, each element coactive with the other.
The resulting meditative works are enigmatic, balanced, subtle and atmospheric, both in the visual nature of the paintings themselves, and in how they interact with surrounding spaces – the type of light, the quality of light, even the time of day, can impact the viewer's patient, intimate consideration.
About the Artist
Czerska has exhibited extensively throughout the United States. She has produced commissions for collectors in the US, Europe, the Caribbean, Australia, and throughout Asia. In addition, she has been awarded several public commissions and attended multiple prestigious Residency Programs, including Art/Omi and International Studio and Curatorial Program in New York.
She graduated from Carnegie Mellon University with a Bachelor of Science Degree in Chemical Engineering. She also studied at the Fashion Institute of Design and Merchandising (Los Angeles, California) and the School of the Art Institute of Chicago. She was born in Krakow, Poland in 1973 and lives in Aspen, Colorado.
About Quogue Gallery
Quogue Gallery's mission is to present a program of artistic excellence by showcasing the work of prominent, mid-career and emerging artists in the modernist tradition. Its core focus is on discovering and exhibiting figurative and abstract expressionist painters who are recognized historically as well as those of great promise who have fallen through cracks of history.
Since its founding in 2014, the Gallery's growing presence in the modern and contemporary art world has been acknowledged by the press. The gallery has been featured in many publications, including the New York Times, Dan's Paper, Beach Magazine, Hamptons Art Hub, Artnet News, Southampton Press, and others. The gallery also has been recognized for the quality of its exhibitions by Hamptons Art Hub, Artnet News, and other outlets.
Quogue Gallery is located at 44 Quogue Street, Quogue, NY 11959. quoguegallery.com