Barbara Vaughn, "Limani, 2012," Archival Pigment Print, 64″ x 28″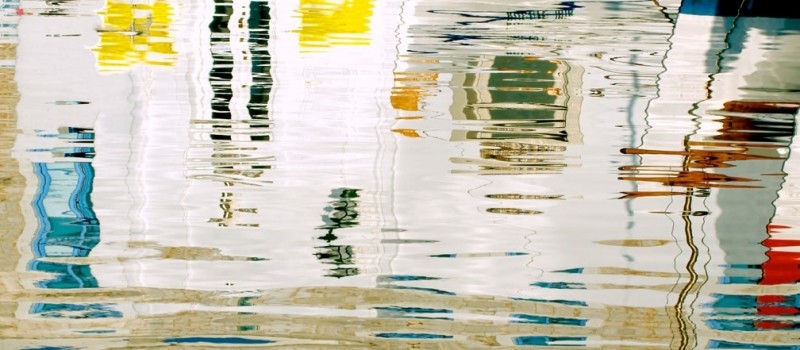 Opening Reception: Saturday, July 5, 4:00–6:30 p.m.
Quogue Gallery is pleased to announce Waterscapes, an exhibition of recent works by the photographer Barbara Vaughn. Several years ago, having gained recognition for her extensive series of nudes in nature and portraiture work, Vaughn became increasingly eager to create images that moved beyond the confines of representational photography. She found her inspiration in 2007 when she observed highly stylized reflections dancing across the port waters of Greece. The photographs in this exhibition—which harness nature to realize abstraction—were taken in locations as diverse as the Greek islands, Venice, Italy, the coast of southern California, and the U.S. Eastern Seaboard, from Maine to Florida.
Water has been repeatedly examined by artists working across history and media. Photographic works of note include Ansel Adams's brooding waterfalls and rocky coasts, Hiroshi Sugimoto's wide-angle ocean horizons, David Hockney's studies of swimming pools, and Richard Misrach's aerial shorelines, among others. Vaughn's tightly framed, space-collapsing photographs contribute to this time-honored tradition while also advancing it in new directions.
Unlike other depictions of water, Vaughn's are completely devoid of contextual cues such as beaches, swimmers, fish, or boats. Furthermore, the split-second photographic frames do not contain enough visual information for the viewer to fully identify the settings and subjects. Instead of rationally meditating on a recognizable scene, the viewer is allowed to focus on Kapritsio's (2013) swirling lines of electric energy, the rhythmic gestures of Acadia (2011), and the graphic undulations of Limani 2 (2012). The photographs consequently accomplish what the great abstract painters of the twentieth century sought to achieve. Many of Vaughn's works moreover share key stylistic tropes with art from this era: Klinlidoma 2 (2012), for example, has strong compositional ties to Picasso's Mandolin and Guitar (1924) while Kinitos 2 (2012) and Afirimeni (2012) channel Jean Dubuffet's penchant for interlocking, curvilinear forms.
Color has played a prominent role in helping Vaughn realize her vision. And while vibrant colors are found across many of the photographs, Vaughn notes an increasing fascination with muted and neutral palettes, as seen in Mavropinaka (2014). Though more subdued, these images still resound with brilliant energy and luminosity. One of Vaughn's hallmarks as an artist is how she utilizes light to bring her subjects to life in new and unexpected ways. Such handling places her work alongside that of Edward Weston and Aaron Siskind, forefathers of photographic abstraction, who prioritized light's transformative ability in their attempts to move away from realism and figuration.
Though Vaughn's photographs, like Weston's and Siskind's, are of specific locations, the specificity of these settings is superseded by the resulting images' formal and affective impact. By presenting recalibrated realities, Vaughn invites a level of close examination, engagement, and interpretation that challenges viewers to pay closer attention to what they see, think, and feel.
Born in Philadelphia, Pennsylvania, Barbara Vaughn earned her B.A. from Princeton University and later attended the International Center of Photography in New York City. Her work has been featured in numerous publications and books and exhibited in New York City; Sun Valley, Idaho; St. Barths; Sonoma, California; and most recently, the Dolby Chadwick Gallery in San Francisco. Waterscapes marks Quogue Gallery's inaugural exhibition.
Contact:
(631) 653-6236
info@quoguegallery.com
www.quoguegallery.com