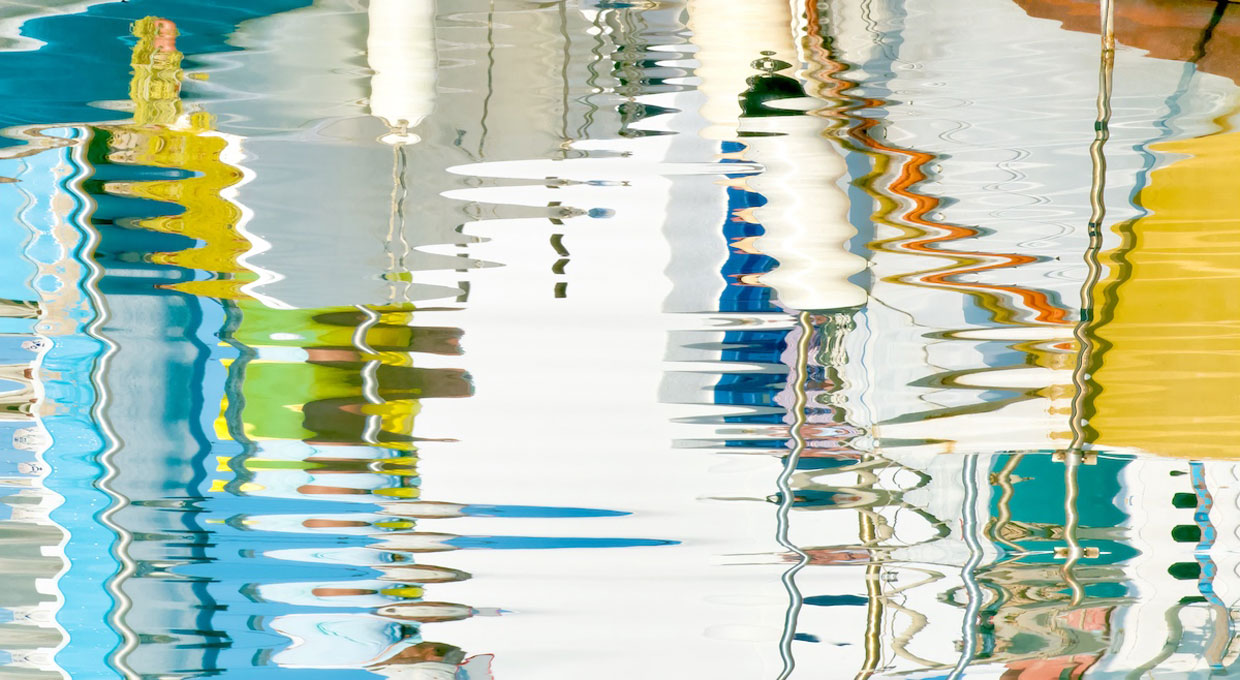 FOR IMMEDIATE RELEASE
August 26 to September 30, 2021
Artist Reception: Friday, August 27, 5:00 to 7:00 pm
Artist Talk: Friday, August 27, 6:00 pm
Quogue Gallery is pleased to present Barbara Vaughn: Beyond the Sea, her third solo show with the gallery. This exhibition will feature eleven works by the artist, whose signature abstract photographs fuse the mysterious and the mundane, the familiar and the enigmatic. Seven of the works feature her stylized reflections on water, which entice the viewer to synthesize visual clues to reconstruct the source and subject matter of the compositions. These waterscapes present a juxtaposition of reality and the surreal, and the resulting ambiguity invites us to decipher the truth.
Four other works presented are from Vaughn's recent "Urban Tableaux" and "Apart Together" series, the latter created while sheltering-in-place in the spring of 2020. The source materials include photographs of deteriorating posters, advertisements and billboards previously captured in New York and Paris, water images, and macro details of textured brushstrokes. By deconstructing, recombining and layering these disparate fragments, the artist introduces thought-provoking new narratives that encourage individual interpretation.
ABOUT THE ARTIST
Barbara Vaughn is a fine-art photographer based in New York City and San Francisco. Her inexplicable abstractions, captured in commonplace settings, explore the parameters of vision and cognition. Vaughn's photographs range from mesmerizing reflections in moving water to overlooked gritty details in urban environments, but all challenge the viewer to recreate the original scenes and engage our power of imagination in unexpected ways. Her signature waterscapes and other photographic series have been widely exhibited in solo and group shows across the US and internationally, and her work has been published in numerous books and magazines. Vaughn graduated from Princeton University and attended the International Center of Photography in NYC. She is represented by four galleries in the US and her artwork is included in several prestigious private collections.
ABOUT QUOGUE GALLERY
Quogue Gallery's mission is to present a program of artistic excellence by showcasing the work of prominent, mid-career and emerging artists in the modernist tradition. Its core focus is on discovering and exhibiting figurative and abstract expressionist painters who are recognized historically as well as those of great promise who have fallen through cracks of history.
Since its founding in 2014, the Gallery's growing presence in the modern and contemporary art world has been acknowledged by the press. The gallery has been featured in many publications, including the New York Times, Dan's Paper, Beach Magazine, Hamptons Art Hub, Artnet News, Southampton Press, and others. The gallery also has been recognized for the quality of its exhibitions by Hamptons Art Hub, Artnet News and other outlets.
Quogue Gallery is at 44 Quogue Street, Quogue, NY 11959. quoguegallery.com