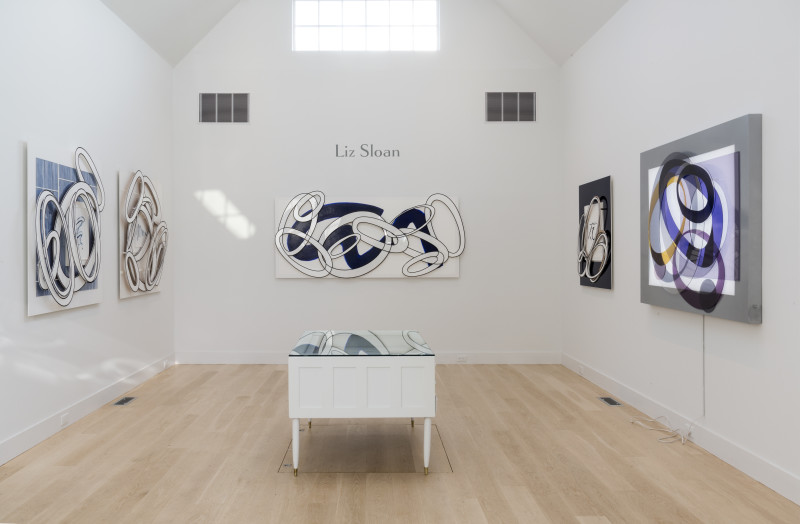 LIZ SLOAN'S BOOK OF RINGS
QUOGUE GALLERY SPEARHEADS HAMPTONS RISING STAR AT ART BASEL
Liz Sloan is a Hampton based artist whose introspective addresses concepts of self realization and enlightenment. The artist's calls her collective, Ki Path, tapping the Japanese notion of the active life spirit that imbues the work with its elemental energy.
Sloan's aesthetic skillfully combines this Asian source with touchstones of European and American Modernism, all harmonized by her highly personal touch as a painter who is a master of design. A hallmark of Sloan's technique is the ability to think in three dimensions, drawing on her firm grasp of fine art, design and construction principles. Her long-term commitment to painting comes together with collage and assemblage, all unified by the thematic use of the circle. As the artist explains in a statement:
"I circle back to my roots as an oil painter and designer to create collage and 3D paintings using both found objects and pre-designed Lucite, aluminum, wood and paper pieces. Painting with more than oils reflects how many resources and services are available to an artist today and how viable all of them are. In my work you'll find passages where I intersect a drafted pencil line with a paper cut-out that's been layered with an expressive hand drawn oil pastel gesture. In my 3D work I combine pencil lines with pre-designed Lucite circles that have been manipulated with paper and paint and are suspended away from the traditional picture plane."
The basis for her work is the painting studio and drafting table. A wizard with form, she can integrate aluminum, Lucite, paper, even bronze in layered constructions that retain the traditional integrity of oil paint on canvas or paper. As the artist says, "The needs of an artist far exceed what can be sold in an art store. There are so many materials out there. I love the gloss and thickness and saturation of color in Plexiglass¬¬" I was an oil painter to start and then I just wanted to play with solid blocks of color. That brought me to paper and collage – creating blocks and fields of color – that might be done with a brush stroke, but on the surface I did not want to see the movement of the stroke."
The phraseology of Sloan's artistic compass is what will make her a jewel among the art elite.
44 Quogue Street, Quogue, NY 11959
quoguegallery.com