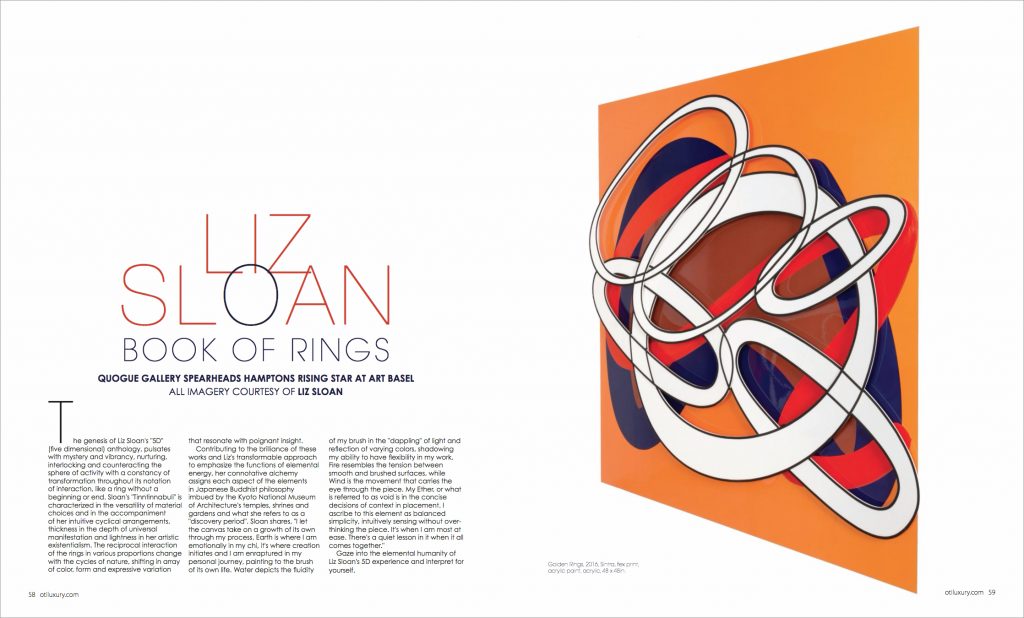 Review from OTI Hamptons Art + Design Issue 2017:
The genesis of Liz Sloan's "5D" (five dimensional) anthology, pulsates with mystery and vibrancy, nurturing, interlocking and counteracting the sphere of activity with a constancy of transformation throughout its notation of interaction, like a ring without a beginning or end. Sloan's "Tinntinnabuli" is characterized in the versatility of material choices and in the accompaniment of her intuitive cyclical arrangements, thickness in the depth of universal manifestation and lightness in her artistic existentialism. The reciprocal interaction of the rings in various proportions change with the cycles of nature, shifting in array of color, form and expressive variation that resonate with poignant insight.
Contributing to the brilliance of these works and Liz's transformable approach to emphasize the functions of elemental energy, her connotative alchemy assigns each aspect of the elements in Japanese Buddhist philosophy imbued by the Kyoto National Museum of Architecture's temples, shrines and gardens and what she refers to as a "discovery period". Sloan shares, "I let the canvas take on a growth of its own through my process. Earth is where I am emotionally in my chi, it's where creation initiates and I am enraptured in my personal journey, painting to the brush of its own life. Water depicts the fluidity of my brush in the "dappling" of light and reflection of varying colors, shadowing my ability to have flexibility in my work. Fire resembles the tension between and brushed surfaces, while Wind is the movement that carries the eye through the piece. My Ether, or what is referred to as void is in the concise decisions of context in placement. I ascribe to this element as balanced simplicity, intuitively sensing without overthinking the piece. There's a quiet lesson in it when it all comes together."
Gaze into the elemental humanity of Liz Sloan's 5D experience and interpret for yourself.