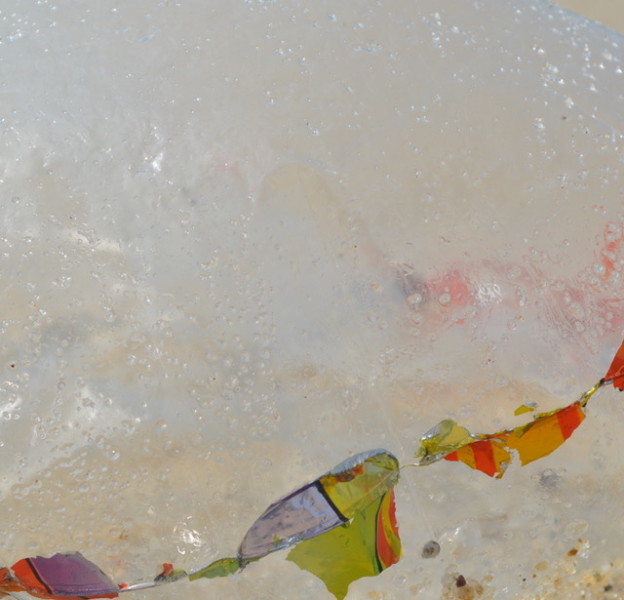 FOR IMMEDIATE RELEASE
Laura Lobdell: SWELL
Dates: May 18 to June 7, 2017
Opening Reception: Saturday, May 27, 2017
Quogue, New York. May 12, 2017. SWELL will be the first exhibition at the Quogue Galley this season, on view from May 18 to June 7. An opening reception will be held on Saturday, May 27 from 5 to 7 pm at the gallery located at 44 Quogue Street in Quogue. The SWELL series of photographs cloaks a call to the urgency of ocean clean up in the monumental syntax of color field painting.
About the work, the artist Laura Lobdell said, "this series, entitled SWELL, began a few summers ago, when I was so saddened by the debris on the beautiful beaches of the Hamptons.  I vowed to collect a piece of trash from the beach on every walk I took. This led to me picking up lots of trash each walk — but was still quite obviously ineffective.  The following summer, it occurred to me that I might be able to find beauty in the trash and document it with photos — which could then be used to get the message out.  The Mylar balloons are a symbolic choice for me — and importantly one that people can easily avoid turning into trash on our beaches. The Mylar and the ribbons tragically impact marine wildlife as well as pollute the waters".
For Lobdell, the pieces in SWELL symbolize that as individuals we can make a difference towards a cleaner environment. Lobdell is committed to raising awareness for clean oceans. Both Lobdell and Quogue Gallery will donate a portion of the proceeds from sales to the Billion Oyster Project.
The Billion Oyster Project is a long-term, large-scale initiative to restore sustainable oyster population to New York Harbor. Restoring oysters and reefs will rejuvenate the local marine ecosystem's natural mechanisms for maintaining itself, resulting in cleaner water and greater biodiversity. New York Harbor is a valuable nursery habitat. Many of the commercially and recreationally important fish species in Long Island Sound spend a portion of their lives in the Hudson River, or in New York Harbor. Thus, restored oyster reefs in New York Harbor, will have a direct positive effect on fish populations in Long Island Sound.
About the Artist
New York-based artist and designer Laura Lobdell has lived in California and Hong Kong, and currently resides in New York with her Japanese Chin named Enso. Committed to creating an artisanal collection made in New York, Lobdell makes work for her collectors to celebrate every day. Lobdell's jewelry practice derived from the found, everyday objects used in her paintings and sculptures. She has exhibited at PS 1, DCKT Gallery, New York, The Bronx Museum of the Arts, The National Arts Club of Washington, D.C., the Louis Stern Gallery in Los Angeles and the Art Institute of Chicago.
Transforming travel experiences include: visiting master jewelers in Jaipur, India, working with royal lacquer makers in Burma, riding the Trans-Siberian from Beijing to Moscow, textile collecting in Istanbul's Grand Bazaar and trekking in the Nepalese Himalayas and Peruvian Andes. Lobdell is a collector of found objects and vintage textiles, which inspire and inform her work.
Lobdell holds an M.F.A. from the School of Visual Arts, and attended Skowhegan School of Painting and Sculpture artist residency in Maine and AIM at the Bronx Museum.
About Quogue Gallery
As Quogue's first and only private art gallery, the Quogue Gallery is a dynamic new space in the Hamptons where artists, collectors, and art enthusiasts can meet and share their common passion for serious artistic investigation and appreciation. The gallery's mission is to present a program of artistic excellence not limited to any genre or medium. Its focus is on modern and contemporary art created by emerging, established and historically important artists. An essential aspect of the mission is to establish the gallery as an active, vibrant, and inventive participant in the Hamptons art panorama, with artist talks and events that significantly contribute to the modern and contemporary art discourse.