Pieter Greeff, "Night Fishing, 2014," Oil on Canvas, 20″ x 16″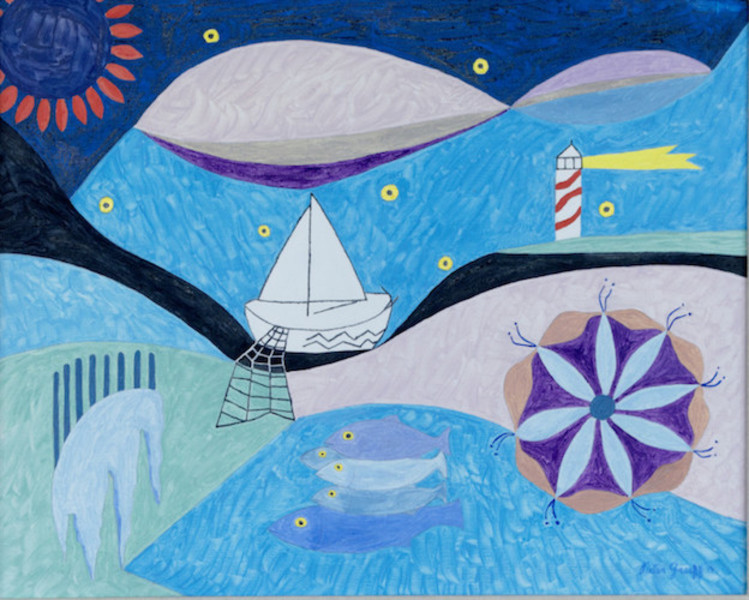 Quogue Gallery is pleased to share the following excerpts from Hamptons Art Hub's art review of our current shows, PIETER GREEFF | FACES OF THE SEA and MARSHALL CROSSMAN | WATER'S EDGE, on view through September 30th:
"For me, the smell of oil paint is the first sign I am about to enjoy some time viewing art. Top notes of linseed oil and Grumbacher are currently mingling with the illusion of salt air at the Quogue Gallery, where two cheekily different takes on the sea are offered by Quogue local Pieter Greeff (in the front gallery) and California-based Marshall Crossman (in the towering new addition at the rear)."
"Outside" by Pieter Greeff, 2015. Oil on canvas, 20 x 24 inches
"Aptly enough for a seaside theme, Greeff tiptoes the coastline between abstraction and mimesis, matching sky and surf in flattened planes under the tight control of contours. The unreal is interjected via the colors that are not out there but in the head, and dreamily archetypal symbols…The fantasies captured in the nocturnes and especially 'Chowder' or 'Outside' could be used as the cover for a particular batch of stories in the "Arabian Nights" in which a poor fisherman whose luck has gone out with the tide starts hallucinating that the fish are talking to him."
"Pacifica #10" by Marshall Crossman, 2014. Oil on canvas, 36 x 44 inches.
"Crossman's Pacifica 10 lays out the compositional strategy found in many of her seascapes. From top to bottom a certain serenity yields to a more active surface. At the top, a single steady gesture divides sea from sky, the horizon as margin defining here the separation from what Yves Bonnefoy brilliantly calls "l'arriere pays" or the place beyond…At the bottom edge the curls of fractured color zig and zag five or six times in one deft stroke—these are the pleasures of watching a virtuoso in action."
Read full review on Hamptons Art Hub.