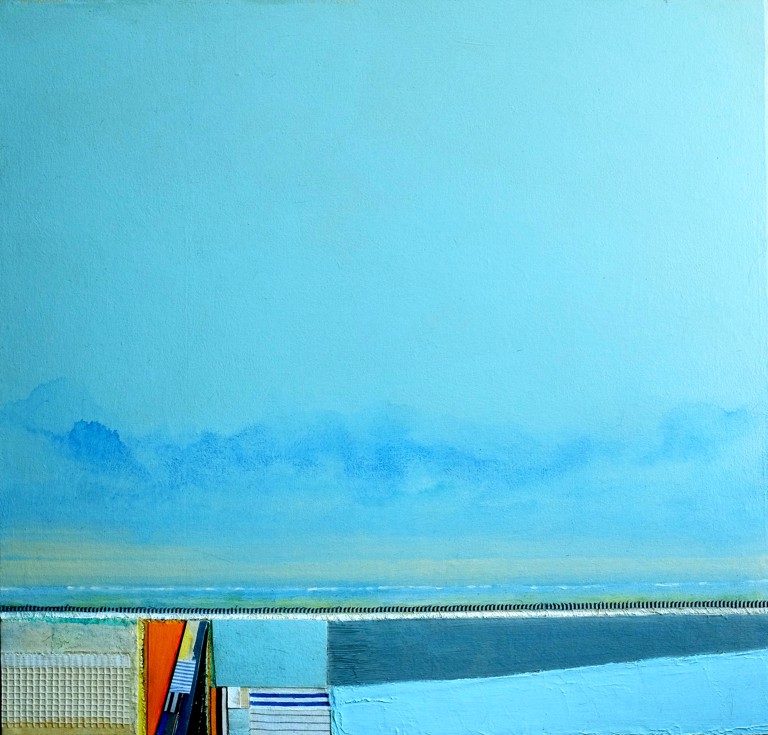 August 14 to September 30 , 2020
Opening Reception, Saturday, August 15, 5 – 7 PM
Quogue Gallery is pleased to present "Eugene Healy: Recent Paintings." The exhibition will feature 23 works newly painted by the artist.
About Healy's work, Peter Hastings Falk, Chief Curator and Editor of Discoveries in American Art, writes, "Many of Healy's paintings are abstractions of shore scenes, being places that have evoked particular moods and feelings in the artist.  And it is those feelings that he so effectively materializes with mediums ranging from oil, watercolor, encaustic, oil crayon, lacquers, and colored pencil applied to fragments of canvas, boards, and paper. Often, one delights in the subtle addition of beach sand, fragments of printed fabrics, and even pieces of window screens. These are musical arrangements. Yet what is generally not known about the artist is that in the process of capturing those feelings just right, he returns to each work, over and over, almost obsessively making changes until he is certain his expressions sing… For [Healy], collage is a melody he first heard as a thirteen-year-old growing up in Brooklyn, New York, where he was born in 1948. Among his early primary influences, he cites Matisse, Vermeer, Diebenkorn, Rauschenberg, Hoffman, and the Fauve painters.
Starting in 1967, Healy began a long exhibition record with art museums and galleries throughout the country. He has also served as a curator, beginning in the late 1970's, when he conceived and organized the popular traveling exhibition, American Vision which was launched at New York University. Later, he served as Director of the National Artists' Alliance, and as Exhibition Designer for the Yale Center for British Art. Healy earned a B.F.A. from New York Institute of Technology in 1972.
ABOUT QUOGUE GALLERY
The mission of the Quogue Gallery is to present a program of artistic excellence by showcasing the work of prominent, mid-career and emerging artists in the modernist tradition. Its core focus is on discovering and exhibiting figurative and abstract expressionist painters who are recognized historically as well as those of great promise whose work has not received the attention and critical response it so richly deserves.
Since its founding in 2014, the Quogue Gallery's place in the modern and contemporary art world has been widely acknowledged by the press. The gallery has been featured in many publications, including the New York Times, Dan's Paper, Beach Magazine, Hamptons Art Hub, Artnet News, Southampton Press, and others. The gallery has also received critical recognition in reviews published by Hamptons Art Hub, Artnet News and other outlets.
Quogue Gallery is at 44 Quogue Street, Quogue, NY 11959. quoguegallery.com