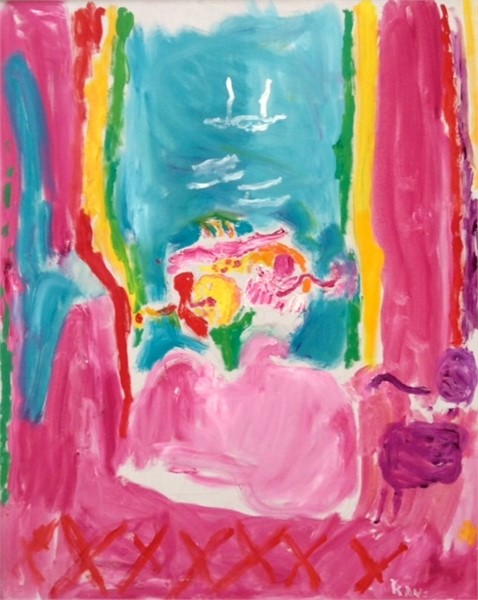 QUOGUE GALLERY
FOR IMMEDIATE RELEASE
Bob Paul Kane: A Dance with Color
June 22  to July 10, 2019
Opening Reception: Saturday, June 22, from 5 to 7 pm
The Quogue Gallery will be opening its summer exhibition schedule with Bob Paul Kane, "A Dance with Color".   The show will highlight the late artist's works on canvas and paper dating from the 1960s to the 2000s. The exhibition will be on view from June 22 to July 10, 2019; an opening reception will be held at the gallery at 44 Quogue Street on Saturday, June 22, from 5 to 7 p.m.
Born in Cleveland, Ohio in 1939, Kane spent a short time at Cornell University and then found his way to the artists' colony at Provincetown, Massachusetts in the summer of 1956. In the fall of that year, the aspiring artist discovered the classes of Will Barnet at the Art Students League in New York City. Barnet, a widely respected and long-time artist-teacher, was the single most important influence in Kane's career. "The first time I saw Bob Kane's work," Barnet wrote, "I recognized his unique talent. His painting had an energy and an explosive force." From Barnet, Kane learned structure and control of space, developing his characteristic use of large, flattened planes of expressive color.
Sense of place was an important part of his work, and other than Provincetown, where he spent many summers, he also repeatedly returned to Italy and France. The Mediterranean inspired many paintings that capture the colorful breeziness and festivity of the coastal towns like Positano, Nice, and Menton.
Kane had many solo exhibitions throughout his long career. He exhibited in New York at Bertha Schaefer Gallery and Hollis Taggart, in Los Angeles at Ankrum Gallery, in Florida at Harmon-Meek Gallery, in France at the Musée de St. Paul de Vence, and in Tokyo at the American Embassy, among many others. He enjoyed relationships with many interesting figures who collected his work, including actors Audrey Hepburn, Al Pacino, Leonard Nimoy, and Mary Tyler Moore; and major collectors such as Edward Broida and Olga Hirshhorn. His works are included in more than thirty museum permanent collections. Recent inclusions were in 2011 at the Museum of Modern Art in New York and in 2012 at the Orlando Museum of Art in Florida.
ABOUT QUOGUE GALLERY
Quogue Gallery's mission is to present a program of artistic excellence by showcasing the work of prominent, mid-career and emerging artists in the modernist tradition. Its core focus is on discovering and exhibiting figurative and abstract expressionist painters who are recognized historically as well as those of great promise who have fallen through cracks of history.
Since its founding in 2014, the Gallery's growing presence in the modern and contemporary art world has been acknowledged by the press. The gallery has been featured in many publications, including the New York Times, Dan's Paper, Beach Magazine, Hamptons Art Hub, Artnet News, Southampton Press, and others. The gallery also has been recognized for the quality of its exhibitions by Hamptons Art Hub, Artnet News and other outlets.
Quogue Gallery is at 44 Quogue Street, Quogue, NY 11959. quoguegallery.com