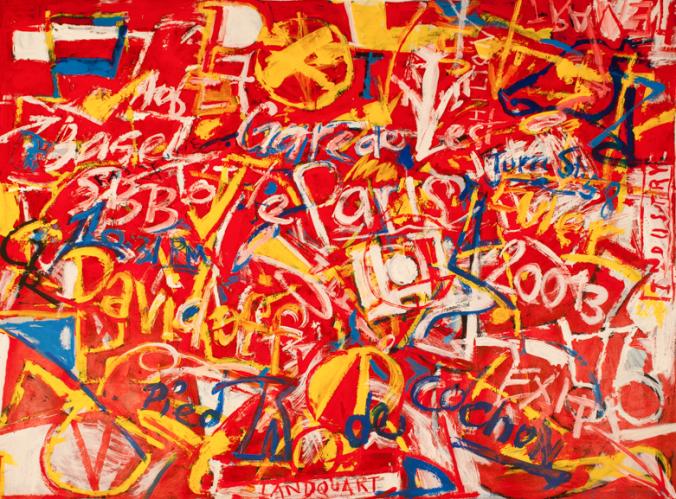 Quogue Gallery's big canvases by Bertschmann illuminate a master from the first generation of the New York Abstract Expressionists
Quogue, NY, January 7, 2018:  At the outset of its founding in 2014, Quogue Gallery, located near Westhampton on Long Island, has earned a reputation for presenting discoveries of significance that rival those presented in Manhattan. From January 17th–21st one of those discoveries will delight viewers at Art ­Palm Beach, the fair for Contemporary & Modern Art, which will feature Harry Bertschmann. This painter, whose name is entering the dialogue about discoveries, was born in Basel, Switzerland in 1931. He studied at the famous Basel School of Design in the late 1940s and immigrated to the U.S. in 1951. In 1958 the jury of the prestigious Carnegie International selected him as its youngest exhibitor — and one of his large abstract expressionist paintings hung beside those by Mark Rothko, Franz Kline, Barnet Newman, Philip Guston, and Robert Motherwell.
But Bertschmann led a double life. His training in Basel led him to become an innovator in graphic design, and many of his commercial logos and packaging have become pervasive in American culture. The logos and packaging for Kent and Newport cigarettes, Nestlé's, and Bufferin are but a few of his creations. In 1997 the artist was honored with a retrospective in Basel. However, he never actively promoted his private paintings, which has grown to a large body of work spanning 7 decades.
Quogue Gallery is delighted to be the first to reveal canvases from two of Bertschmann's most significant series.  In the early 1960s the painter began creating The Subway Series, pioneering a unique graffiti style with text, figures, and symbols. Note that at that time Basquiat was just a toddler. Quogue is showing 4 large canvases from this series. They are also showing 3 large canvases from his AbEx Shapes Series from 1963–65. Art critic and historian Prof. Robert C. Morgan described the series as "abstract gestural signs that suggest a language."
An article about Bertschmann appeared in the Sunday, January 7th 2018 issue of The New York Times. Writer Susan Chumsky lauded Christy & Chester Murray of the Quogue Gallery for taking the lead in bringing Bertschmann his long overdue recognition, beginning with the Art ­Palm Beach show and followed up with a solo exhibition this summer.
"Bertschmann is essentially an art world outsider looking inward," wrote Morgan. "He is a seasoned artist, a highly creative artist, an articulate individual, and a nearly obsessive worker, always willing to stand back and examine what he does before moving ahead. He is also an exemplary draughtsman…His atelier is a phenomenon to behold."
Contact:
Quogue Gallery
44 Quogue St
Quogue NY 11959
Chester & Christy Murray
info@quoguegallery.com
(631) 653-6236
By Appointment
(203) 981-8260 or (203) 321-9427