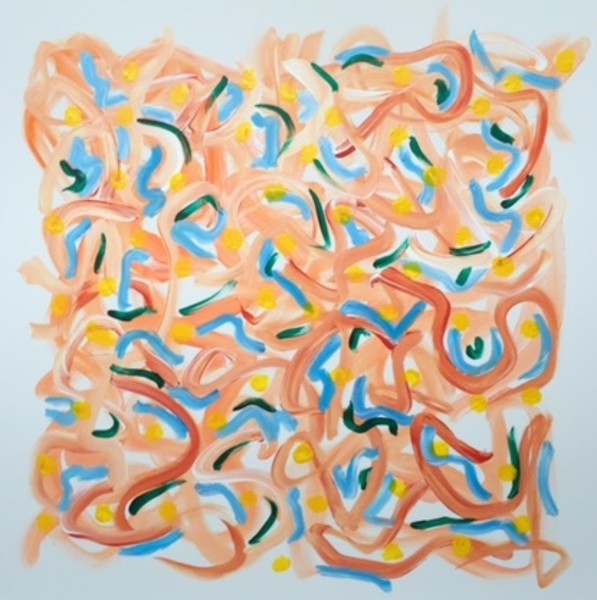 QUOGUE GALLERY
FOR IMMEDIATE RELEASE
Hans Van de Bovenkamp: In the Present Moment
July 20 – August 9, 2017
Artist Reception: Saturday, July 22 from 5 to 7 PM
Quogue, N.Y., July 18, 2017. "Hans Van de Bovenkamp: In the Present Moment" will be the next exhibition opening at the Quogue Gallery, a debut of the paintings of Hans Van de Bovenkamp, the internationally renowned sculptor best known for his gleaming monumental works in stainless steel. The exhibition will be on view from July 20 to August 9, 2017, with an opening reception scheduled on Saturday, July 22, from 5 to 7 p.m.
Featured in the exhibition will be six paintings, 10 works on paper, nine tabletop sculptures, a 6½-foot outdoor sculpture, and examples of the artist's jewelry.
In an essay about the Quogue Gallery exhibition, Charles A. Riley II notes that the show "calls for an aesthetic that traverses the boundaries of artistic categories" and suggests that an understanding of  the "tectonic" weaving together of materials as described by architecture professor Kenneth Frampton can be useful in enhancing the appreciation of beauty in different media.
"The etymology of tectonic applies as nimbly to textiles and literary texts as it does to the integration of harmony and melody in a musical score," Riley writes. "It may apply particularly well to architecture, but it is especially fitting as a way to bridge the sculpture and painting of Hans Van de Bovenkamp, who trained as an architect, built sculptures nearly a hundred feet high and is now bringing his vigorous mastery of form to paint and canvas."
In Van de Bovenkamp's "Reflection on Painting," the artist discusses the significance of his move into painting later in his career. He describes the inspiration for his paintings, noting how they drew upon memories of the brickwork and patterns of his native Holland: "I wondered about patterns in paving, brick walls, art deco and flags." He also acknowledges the role of the "loose and free" gestures of his friend Willem de Kooning as an influence on his own painting style, particularly by contrast with the arduous process of fashioning sculpture from steel.
Riley acknowledges in his essay that "it takes a technician of immense power to realize a de Kooning brush stroke in cut and welded steel. What is fascinating is the correlation between the to and fro of vertical and horizontal forms in Van de Bovenkamp's massive portals and the analogous curved forms assembling columns and arches in his own paintings."
Van de Bovenkamp was born in Garderen, Holland, where his father was a Baptist preacher who was heroically active in the Dutch resistance during the Nazi occupation. He received early academic training in both mathematics and architecture in Amsterdam, where his expressive gifts were also fostered by such experiences as hearing Miles Davis play live. In his essay, Riley notes that improvisatory freedom is everywhere in his paintings and sculpture, some of which have an explicitly musical starting point.
The family moved to Ontario in 1957, and he went on to a degree in sculpture and architecture from the University of Michigan. He and his older brother Gerrit started a design firm in 1959, about the time when he began to fashion his first sculpture from coat hangers salvaged from the street, first exhibited in 1961. That year, he packed up the Buick and headed to Manhattan, taking a studio on the legendary East 10th Street, an address forever linked to the Club and the Abstract Expressionist movement, still in force at that time.
Examples of the stainless steel sculpture for which Van de Bovenkamp is best known can be seen in front of buildings and galleries all along Montauk Highway on the East End.  In addition, the artist's Sagaponack property features an outdoor "gallery" of large-scale sculpture as well as a drawing studio and two large buildings for cutting and welding steel.
During more than 50 years of exhibitions and commissions, the monumental scale of Van de Bovenkamp's most famous work, including in the pieces known as portals, has reached an international audience, including in Holland and China, and established him as one of the masters of the difficult medium of stainless steel. For many years he has drawn and painted in relation to the sculpture, including many of the large-scale watercolors and gouaches that are on view at the Quogue Gallery. The flowing, elegantly contoured works on paper are sometimes made after a sculpture is complete, sometimes by way of preliminary study.
The Quogue Gallery exhibition explores Van de Bovenkamp's ability to translate his hallmark visual style from sculpture into other media, from drawing to painting, and also to jewelry. On view in the show are tiny iterations in silver and 18-carat gold of the massive steel structures that Van de Bovenkamp builds. He and Denise Moore designed the HVDBDM Fine Art Jewelry Collection, which offers miniature but fully realized, detailed versions of the flowing forms of the sculpture.
As the artist has noted, "To see a 49-foot-tall sculpture reduced to three or four inches is remarkable. You feel like a giant to turn such a huge object into such a small one that can be held in your hand."
ABOUT QUOGUE GALLERY
As Quogue's first and only private art gallery, the Quogue Gallery is a dynamic space in the Hamptons where artists, collectors, and art enthusiasts can meet and share their common passion for serious artistic investigation and appreciation. The gallery's mission is to present a program of artistic excellence not limited to any genre or medium. Its focus is on modern and contemporary art created by emerging, established, and historically important artists. An essential aspect of the mission is to establish the gallery as an active, vibrant, and inventive participant in the Hamptons art panorama, with artist talks and events that significantly contribute to the modern and contemporary art discourse.
Quogue Gallery is at 44 Quogue Street, Quogue, NY 11959. quoguegallery.com